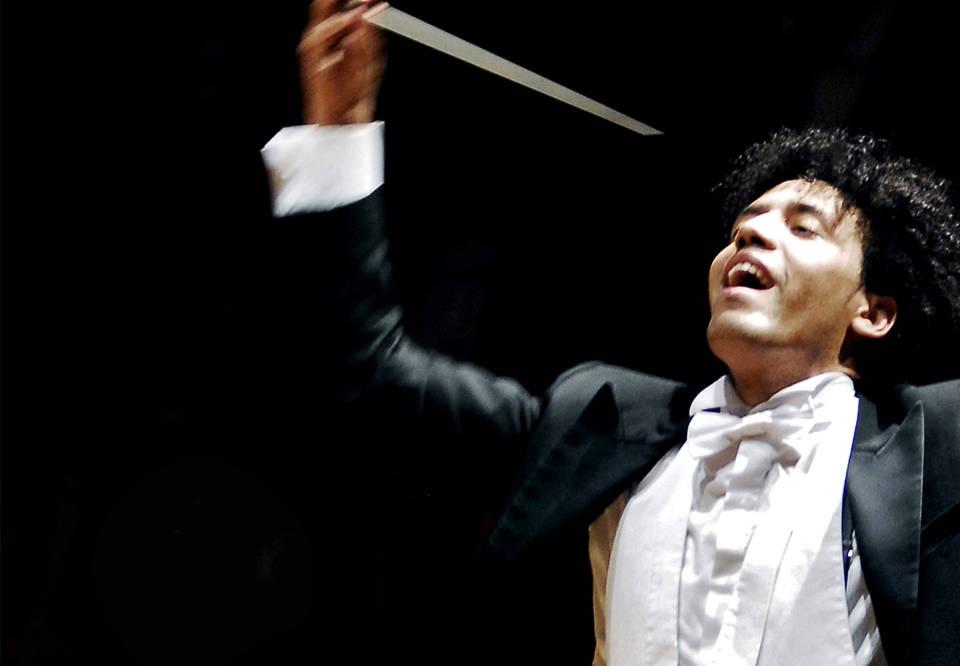 Rafael Payare
Medlemmar ur Kungliga Filharmonikerna. Foto: Mats Lundqvist
Genre:
Royal Stockholm Philharmonic Orchestra
Mahler Five
Beauty and struggle in dreamy orchestral music.
Thursday 1 October 2020 18.00
Ends approximately 20.10
Under the baton of Venezuelan conductor Rafael Payare, the Royal Stockholm Philharmonic Orchestra performs majestic music with otherworldly power and paradise-like beauty.
Gustav Mahler's Symphony No. 5 is his best known and most played. The first movement is a funeral march "at a measured pace, strict, like a procession", and the last is a triumphant finale with a gentle touch of irony. In between, Mahler has charged this piece with a grand and dancing scherzo and the beautiful adagietto, a spherical, nearly spiritual piece of music with the power to alter and elevate the listener's state of mind.
The spiritual dimension of music is also important to Polar Music Prize-winning Russian composer Sofia Gubaidulina. She describes Fairy Tale Poem as about a piece of chalk which, when picked up from the box, realises it is near a blackboard in a classroom. Its dreams of getting to create pictures of beautiful castles, magnificent gardens and oceans wither away. But soon, something invigorating happens to the chalk.
The music of Icelandic composer Anna Thorvaldsdottir has been played worldwide since she won the Nordic Council Music Prize in 2012. In Metacosmos, she depicts the balance between beauty and chaos and the speculative concept of being sucked into a black hole – the unknown. The music is like a large, living body that expands and contracts, in which a myriad of events describe the power struggle of a sound. Metacosmos was commissioned by the New York Philharmonic, which performed the world premiere of the piece in 2018 under the baton of Esa-Pekka Salonen.
Book before the tickets are released!
This concert is included in our series Torsdag Liten. You can secure your place by purchasing a subscription right now – with 25 per cent off the ticket price.
Read more about Torsdag Liten (opens in a new window)
Sofia Gubaidulina

Fairytale Poem

Anna

Thorvaldsdottir

Metacosmos

Gustav

Mahler

Symphony No. 5
Participants

Royal Stockholm Philharmonic Orchestra

Rafael Payare

conductor