Haiou Meng and Henrik Hansson. Photo: Nadja Sjöström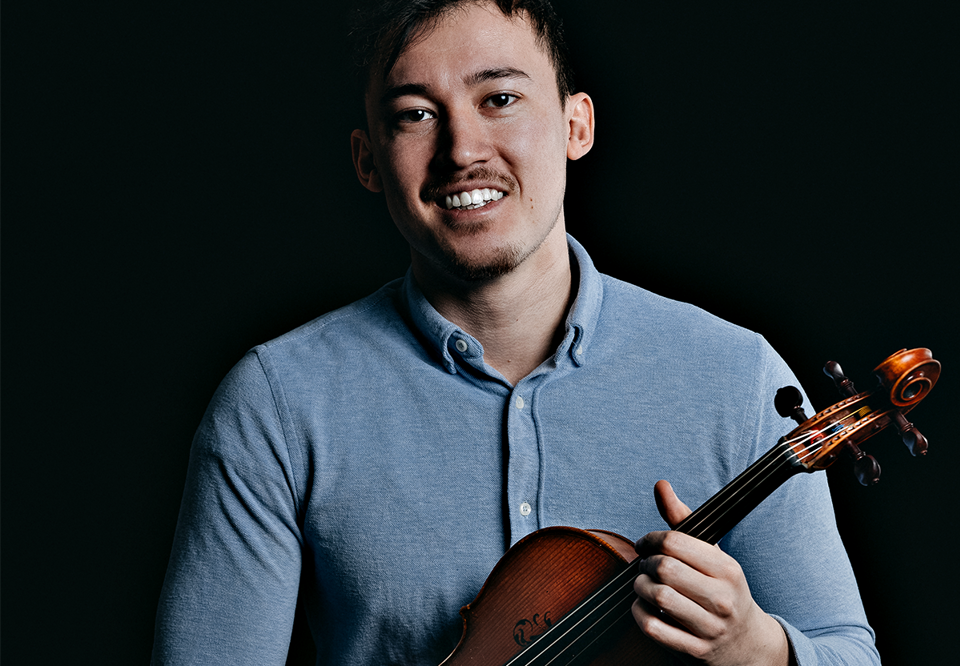 Tim Hansson Meng. Foto: Nino Felbab
Genre:
Chamber music
Soup Concert with Strings
Music by Maddalena Laura Sirmen, Halvorsen and Taneyev.
Friday 15 October 2021 12.15
Ends approximately 13.00
Price:
With lunch 270 SEK, without lunch 125 SEK. Entrance from 11.40 am.
A philharmonic family: Haiou Meng and Henrik Hansson are both members of the Royal Stockholm Philharmonic Orchestra's first violin section, while their son, Tim Hansson Meng, plays viola in the Stavanger Symphony Orchestra.
Italian violinist, composer and singer Maddalena Laura Sirmen (1745–1818) was born in poverty in Venice, but had a marvellous musical career and made a considerable fortune. In a time when it was essentially impossible for a woman to succeed as a musician and composer, this was quite a feat. Among other works, she composed trios, string quartets and a series of violin concertos that were celebrated by contemporary audiences. We will hear the last of her six duets dedicated to the Duke of Gloucester, masterful music from the beginning of the Classical era.
We return to the Baroque period with George Frideric Handel. His Passacaglia for violin and viola is part of a suite that was composed around 1720, originally for harpsichord. Using this as a basis, Norwegian composer Johan Halvorsen created an utterly masterful variation, with thrilling tempo changes, double stop and ricocheting pizzicato.
Sergei Taneyev was a student of Tchaikovsky and already at the age of 22, he succeeded his teacher in harmony and instrumentation at the Moscow Conservatory. He also taught piano, and later composition, eventually becoming the school's director for a period of time. In his romantic, passionate and powerful music, we detect influences from his teacher, Tchaikovsky, as well as Johannes Brahms, even though Taneyev did not particularly like him as a composer!
Menu: Pumpkin & parmesan soup with crunchy pumpkin garnish
Maddalena Laura

Sirmen

Duet in C major for two violins op 5:6

Johan

Halvorsen

Passacaglia for violin and viola

Sergey Taneyev

Trio in D major for two violins and viola
Participants

Henrik Hansson

violin

Haiou Meng

violin

Tim Hansson Meng

viola