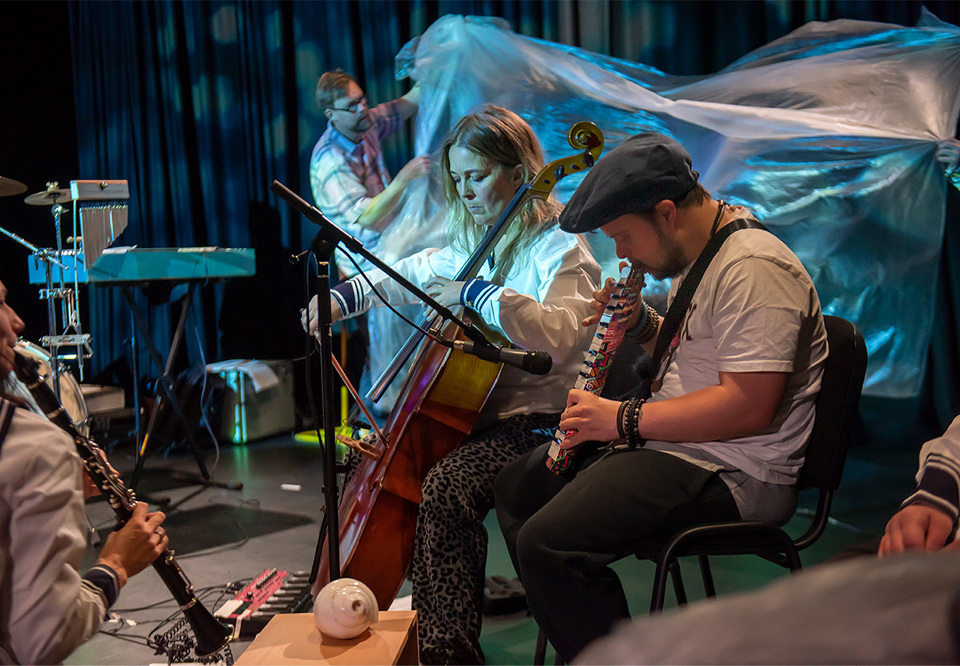 Lucy Rugman
Genre:
Educational
School concert – Ocean
A poetic performance with classical music and actors from Mosaikteatern.
Friday 7 October 2022 11.30
Ends approximately 12.30
For lower secondary students.
The big, beautiful, tempting, exciting and occasionally frightening ocean has always stirred powerful emotions in people. Numerous composers have been inspired to write music with a direct or indirect connection to the sea.
Through music and movement, this show depicts humanity's love for the sea and its various expressions and lifeforms. With poetic expressiveness and a dreamy appeal, Hav aims to spark emotions and provide time for reflection.
The performance includes classical music by composers like Claude Debussy and Irving Berlin. The actors comment on and reinforce the music through movement and props.
The show Hav – Ocean – was developed in close collaboration by the participating musicians and actors from Mosaikteatern. Mosaikteatern is a day centre focused on the performing arts for people with intellectual disabilities. They regularly produce various shows, most recently Vägen till Månen ("The Road to the Moon") and Signalbyrån ("The Signal Agency").
This performance is presented in beautiful Grünewald Hall and is open to everyone. We offer a permissive environment with plenty of space and the opportunity to come early and stay for a while after. You are welcome to eat your own food before or after the show in Konserthuset's foyers.
**
In partnership with Mosaikteatern and Fritt Spelrum
Claude

Debussy

Syrinx for flute solo

Claude

Debussy

From La mer arr Lucy Rugman

Samuel

Coleridge-Taylor

Othello Suite

Irving

Berlin

How Deep is the Ocean? arr Lucy Rugman
Participants

Emma Nordenstam

cello/guitar/vocals

Johan E Andersson

vibraphone/percussion/film

Lucy Rugman

clarinet/bass clarinet

Staffan Findin

trombone

Iiris Viljanen

piano/drum set/vocals

Sareidah Hildebrand

flute

Actors from the Mosaic Theater:

Pablo De Acha

actor

Niclas Bergvall

actor

Joakim Fernström

actor

Niklas Hjelmvik

actor

Josefin Jacobsson

actor

Malin Nord

actor

Christoffer Sjöberg

actor

Daniel Rudholm

director