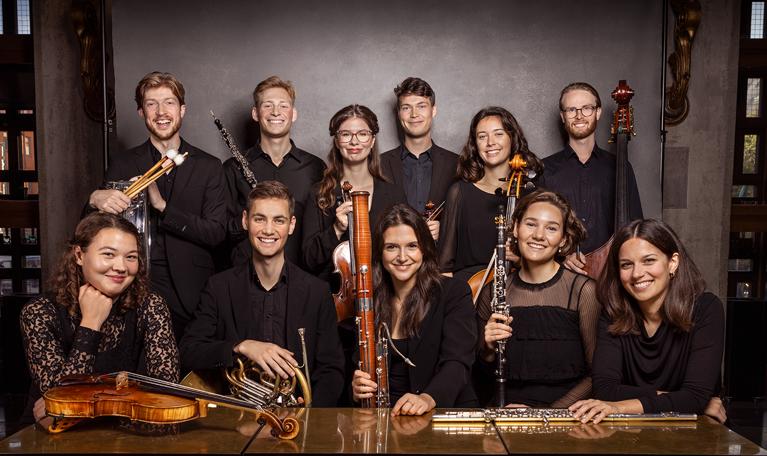 Photo: Nadja Sjöström
Genre:
Chamber music
Chamber concert with the RSPO Orchestra Academy
Concert with this year's academists.
Sunday 19 November 2023 15.00
Ends approximately 16.00
Since 2016, the Royal Stockholm Philharmonic Orchestra (RSPO) offers one year of training on site at Konserthuset Stockholm. The RSPO Orchestra Academy aims to give participating musicians heightened knowledge and understanding of the profession. The young musicians receive individual tuition on their instrument by tutors that are predominantly leaders and principals of the orchestra.
In addition, extensive chamber music playing is a vital part of the course, as in this concert. In Sofia Gubaidulina's Concordanza for chamber ensemble from 1971, the drama is unfolded through clashes between "concordanza" ("concordance") and more dissonant events. Danish Anders Koppel was one of the founding members of the rock band Savage Rose at the end of the 1960s, and he has also composed a lot of film and stage music. We hear his rhytmically playful duet Tarantella for violin and marimba
The concert concludes with music by the French composer Jean Françaix (1912–97). Early on he developed his signature style marked by melodic elegance and sharp rhythms, and we hear his life-affirming Dixtuor for two quintets of string and winds (dix=10).
Sofia Gubaidulina

Concordanza

Anders

Koppel

Tarantella for violin and marimba
Participants

Jonathan Jennesjö

conductor

Kaja Romih

flute

Victor Sjögren

oboe

Klaara Vasara

clarinet

Elena Mateo Sáez

bassoon

Andreas Öberg

french horn

Johan Møllebjerg

percussion

Alzbeta Jezková

violin

André Kaufman

violin

Klara Kotarsky

viola

Lavinia Scarpelli

cello

Adrian Eriksson

double bass