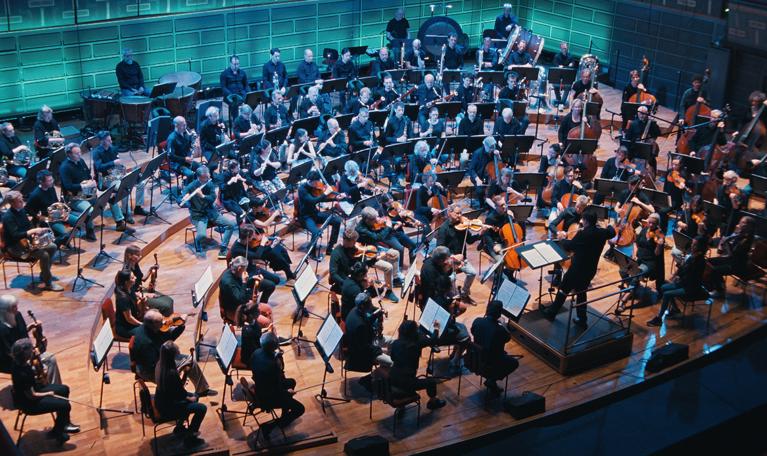 Genre:
Royal Stockholm Philharmonic Orchestra
Wish Concert
Voting is closed – and here are the results with your favourites from the repertoire!
Wednesday 20 December 2023 19.00
Ends approximately 21.00
David Björkman conducts the Royal Philharmonic Orchestra in the programme you voted for! Members of the orchestra, Jesper Harryson and Martin Schöpfer, participate as soloists and programme director Fredrik Andersson is your host.
It is a concert consisting of short numbers taken from well-known and popular music. The richly varied programme is framed by the powerful Wagner prelude to the Masters of Nuremberg and fiery music from Tchaikovsky's Fourth Symphony.
Dvorák's symphony From the New World is indeed a salute to the United States, but it is above all the Czech roots that can be sensed in the inspiring and captivating music from this ninth symphony. Swedish colours sound in Alfvén's world – and even if midsummer feels far away in dark December, the dancing music in Midsommarvaka is always a welcome mood lifter.
Jesper Harryson is the soloist not in an ordinary oboe concert, but in film music: Morricone's infinitely beautiful music from The Mission. Pastoral suite by Lars-Erik Larsson is more purely orchestral music, but surely the romance of that work lingers somewhere close to Morricone's cinematic melancholy? Poetic thoughtfulness is also encountered in Horn Concerto No. 2 by Mozart, with Martin Schöpfer as soloist, especially in the andante movement. We also hear the swirling overture from The Marriage of Figaro by Mozart.
So welcome to a truly exuberant concert with a number of concert favourites – as decided by you, dear audience. Will there be encores? Well, let that be a surprise, but also in this case voting was made.
Richard

Wagner

Prelude to Die Meistersinger von Nürnberg

Antonín

Dvorák

From

Symphony No. 9 ''From the New World''

Ennio

Morricone

Gabriel's Oboe from The Mission arr Ingvar Karkoff

Hugo

Alfvén

Midsummer Vigil

Wolfgang Amadeus

Mozart

Overture to The Marriage of Figaro

Wolfgang Amadeus

Mozart

From

Horn Concerto No. 2

Lars-Erik

Larsson

Romance from Pastoral Suite

Pyotr Tchaikovsky

From

Symphony No. 4
Participants

Royal Stockholm Philharmonic Orchestra

David Björkman

conductor

Jesper Harryson

oboe

Martin Schöpfer

french horn

Fredrik Andersson

host