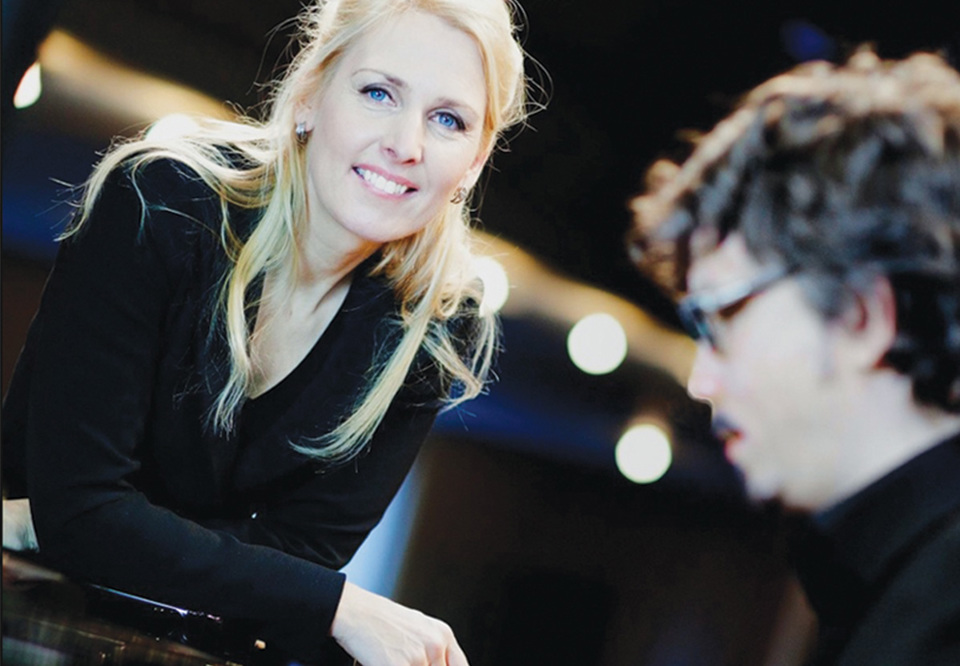 Photo: Annika Falkuggla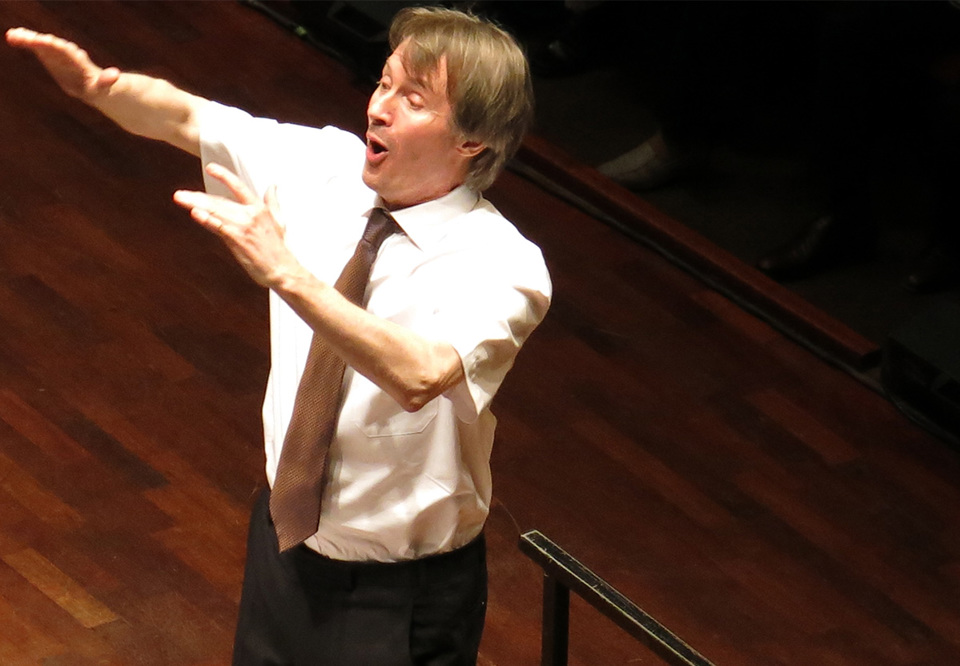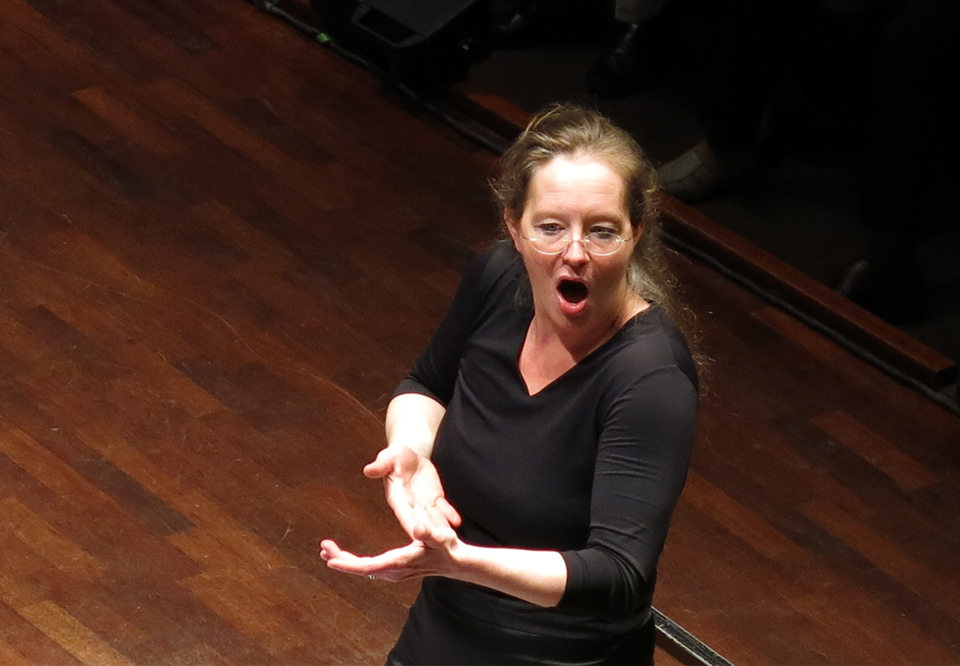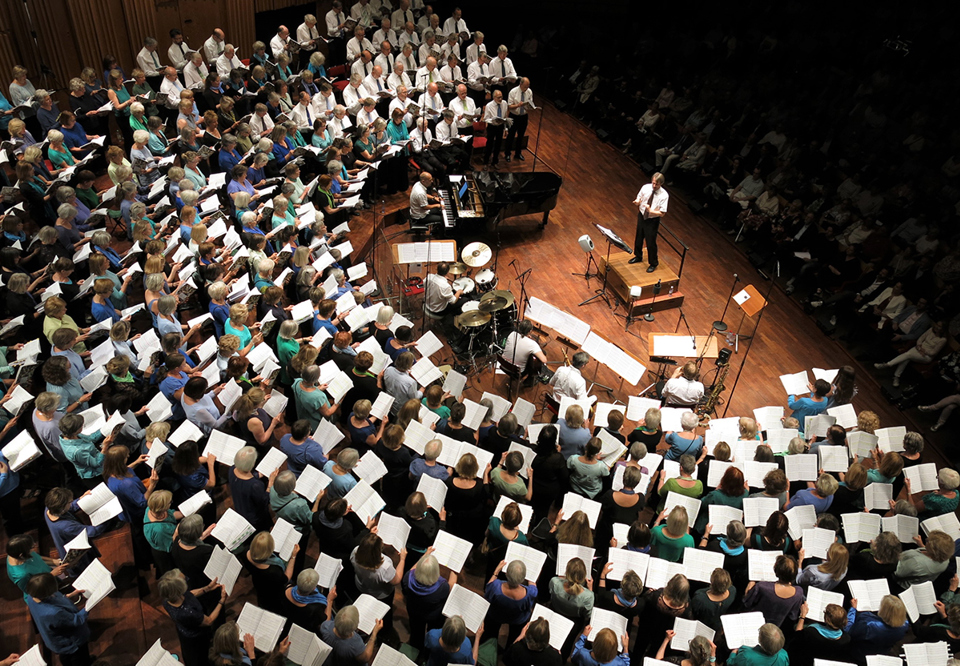 Genre:
Vocal music
Alla tiders Stockholm
External organiser: Cantemus Produktion AB
Saturday 11 June 2022 15.05
Ends approximately 17.00
Songs of Stockholm, from Bellman to Orup, in newly composed arrangements for choir, vocal soloist and piano.
A portion of the proceeds from tickets to this concert will be donated to support refugees from Ukraine.
Cantemus is a large choir founded in 1999 by Sofia and Göran Staxäng. They have performed at Konserthuset numerous times over the years, including acclaimed performances of Handel's Messiah, Orff's Carmina Burana, and most recently, two sold-out shows featuring a Queen programme in January 2020. On 11 June, Cantemus returns to Konserthuset to sing Stockholm's praises with a selection of beloved songs about the city in new arrangements by Sofia Staxäng, with singer Margareta Bengtson and pianist Mathias Algotsson.
Margareta Bengtson was cofounder of The Real Group in 1984, with which she toured the globe. She left The Real Group in 2006 to focus on her career as a soloist, singing everything from jazz to classical music. In 2013, she performed the solo with Cantemus in "God in Disguise" in Music at the Castle – and sang songs by ABBA and Georg Riedel in the same programme.
In recent decades, Mathias Algotsson has become established as a celebrated jazz pianist, touring Sweden and beyond, and gladly in concert with artists from the classical world, such as Barbara Hendricks, or the jazz world, such as Margareta Bengtson – as in this programme. Mathias Algotsson also composes his own music, including for choir, which has been published by Gehrmans Förlag.
Nostalgic programme for Stockholmers of all ages
The programme contains almost nothing but pure, absolute Stockholm classics. Cantemus sing some of the programme themselves, including a new arrangement of Carl Michael Bellman's "Fjäril vingad syns på Haga" ("A Winged Butterfly Appears at Haga") and "Stolta Stad" ("Proud City") to Orup's "Från Djursholm till Danvikstull" ("From Djursholm to Danvikstull"). We also hear Evert Taube's "Stockholmsmelodi" ("Stockholm Melody"), Cornelis Vreeswijk's "Sommarkort" ("Summer Picture") and Hasse Alfredsson and Tage Danielsson's "Bedårande sommarvals" ("Adorable Summer Waltz"), which brings all Stockholmers to their favourite watery places outside the city. Beppe Wolgers put his stamp on "Sakta vi gå genom stan" ("Slowly We Walk Through the City"), one of Monika Zetterlund's signature pieces, performed here in an arrangement just for choir.
Margareta Bengtson sings a handful of songs with Cantemus, including another piece workshopped by Beppe Wolgers: "En gång i Stockholm" ("One Time in Stockholm"), and Barbro Hörberg's beloved "Ögon känsliga för grönt" ("A Keen Eye for Greenery"). Stockholm's Södermalm residents – "Söderkisar" and "Söderbönor" – recognise themselves in Nils Perne and Sven Paddock's "Vårat Gäng – Stigbergsgatan 8" ("Our Gang – Stigbergsgatan 8"). "Mina drömmars stad" ("City of My Dreams") is close to everyone's heart. Did you know that Måns Zelmerlöw collaborated with colleagues to compose the lyrics and music?
The choir and soloists perform in various constellations in this programme; some songs are performed by the choir, others by choir and soloist, and some by just a soloist, featuring Margareta Bengtson singing with pianist Mathias Algotsson. She sings the Swedish rendition of "One Morning in May", with the Swedish title "När Charlie är född" ("When Charlie is Born"), translated by Hasse & Tage. Margareta and Mathias perform a Bossa Nova medley, which also has lyrics by Hasse & Tage: "Stockholm e en jävla stad" ("Stockholm is a Damn City") and "Siv Larssons dagbok" ("Siv Larsson's Diary").
Participants

Cantemus

Sofia Staxäng

conductor

Göran Staxäng

conductor

Margareta Bengtson

vocals

Mathias Algotsson

piano