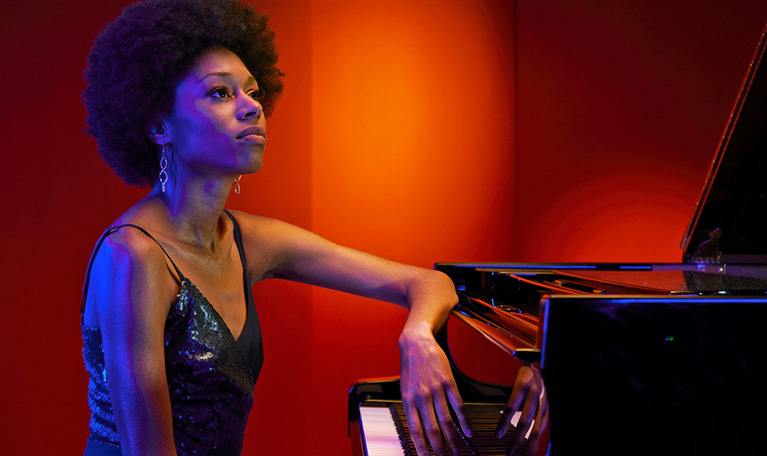 Isata Kanneh-Mason. Photo: John Davis
Torsdag Stor
Ten Thursdays and one Friday at 19.00
Be there on the night of the spectacular season opener, when the Royal Stockholm Philharmonic Orchestra's new chief conductor Ryan Bancroft leads the ensemble in Sven-David Sandström's masterpiece, The High Mass. This overflowing subscription includes familiar classics and exciting discoveries – and the parade of soloists absolutely sparkles.
Price:
1.995–3.755 SEK incl. concert programmes
Benefits with a subscription:
A subscription makes it easy, plus it is the key to a number of benefits. We want you to thrive and let Konserthuset Stockholm become your extra living room.
25 percent off the tickets in your subscription.
Your own seat in the auditorium.
15 percent off tickets to most concerts outside of your subscription – take this chance to discover more!
Priority when our tickets are released.
Exclusive special offers.
The programme is included in the subscription and handed out at the concert.
The Lyssna magazine (in Swedish), for free in your mailbox, or as a digital magazine to your e-mail.
Easy renewal with a guaranteed seat for the upcoming season.
Concerts included in the subscription
Genre:

Royal Stockholm Philharmonic Orchestra

With Conductor Laureate Alan Gilbert and piano soloist Martin Helmchen.

Thursday 12 October 2023 19.00 Watch for free on Konserthuset Play

Genre:

Royal Stockholm Philharmonic Orchestra

The Royal Stockholm Philharmonic opens the festival with a world premiere.

Thursday 9 November 2023 19.00

Genre:

Royal Stockholm Philharmonic Orchestra

The music of the sea and a Swedish world premiere with Chief Conductor Ryan Bancroft.

Thursday 23 November 2023 19.00

Genre:

Royal Stockholm Philharmonic Orchestra

To the max with Hillborg. A new piano concerto and music by Mozart and Stravinsky.

Thursday 11 January 2024 19.00

Genre:

Royal Stockholm Philharmonic Orchestra

Alisa Weilerstein is the cello soloist and Rafael Payare conducts Ein Heldenleben.

Thursday 1 February 2024 19.00

Genre:

Orchestral performance

Italian and French music with top ensemble in the field of early music.

Thursday 29 February 2024 19.00

Genre:

Royal Stockholm Philharmonic Orchestra

Andris Nelsons conducts and Håkan Hardenberger is soloist in a new trumpet concerto.

Thursday 14 March 2024 19.00

Genre:

Orchestral performance

Norrköping Symphony Orchestra performs at the festival dedicated to Lisa Streich.

Friday 12 April 2024 19.00

Genre:

Royal Stockholm Philharmonic Orchestra

Chief conductor Ryan Bancroft conducts and Isata Kanneh-Mason is piano soloist.

Thursday 25 April 2024 19.00

Genre:

Royal Stockholm Philharmonic Orchestra

Favourites of the repertoire with Janine Jansen and Manfred Honeck.

Thursday 23 May 2024 19.00
Previous conserts in the series
Thursday 7 September 2023 19.00