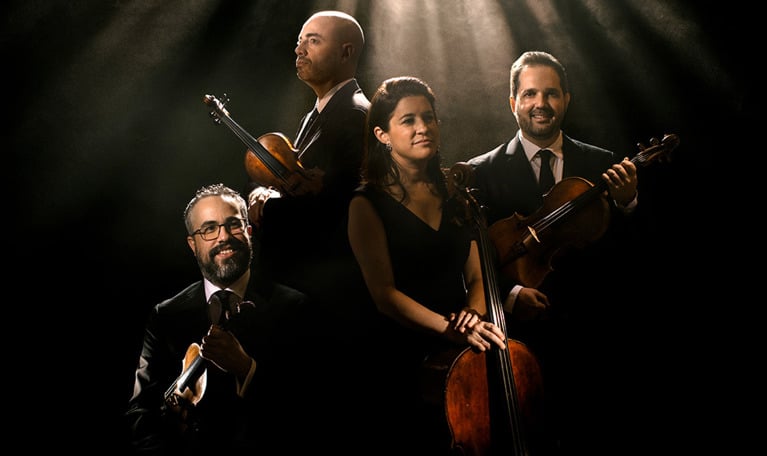 Cuarteto Quiroga. Photo: Igor Studio
Stråkkvartetter
The string quartet may be the most popular form of intimate chamber music – ever since Haydn's day. Some of the world's foremost quartets perform at Konserthuset every season. This time, we hear three French string quartets – Quatuor Ébene, Qutuor Zaïde and Quatuor Diotima – as well as Spanish Cuarteto Quiroga, Swedish Stenhammar Quartet and Belgian Sonoro Quartet.
Price:
1.370 SEK incl. concert programmes
Benefits with a subscription:
A subscription makes it easy, plus it is the key to a number of benefits. We want you to thrive and let Konserthuset Stockholm become your extra living room.
25 percent off the tickets in your subscription.
Your own seat in the auditorium.
15 percent off tickets to most concerts outside of your subscription – take this chance to discover more!
Priority when our tickets are released.
Exclusive special offers.
The Lyssna magazine (in Swedish), for free in your mailbox, or as a digital magazine to your e-mail.
Easy renewal with a guaranteed seat for the upcoming season.
Concerts included in the subscription
Genre:

Chamber music

From classics to new compositions.

Saturday 20 January 2024 16.00

Genre:

Chamber music

Classical masterpieces and new music with this season's Rising Stars.

Saturday 3 February 2024 16.00

Genre:

Chamber music

Music by the Schumann couple and the Mendelssohn siblings.

Saturday 16 March 2024 16.00

Genre:

Chamber music

A choreographic string quartet and a declaration of love.

Saturday 4 May 2024 16.00
Previous conserts in the series
Saturday 14 October 2023 16.00

Saturday 18 November 2023 16.00