Encore...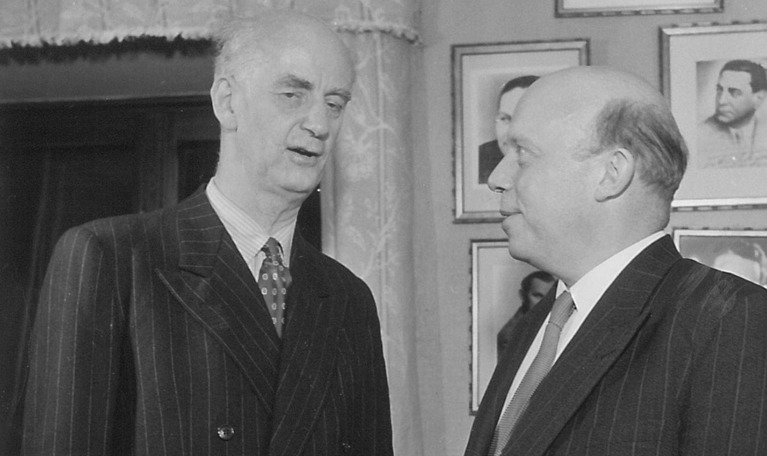 Wilhelm Furtwängler and Executive Director Johannes Norrby, in the conductor's dressing room at Konserthuset.
Encore... a little more about the history. Did you know composer Allan Pettersson was a member of the orchestra from 1940–53? Pettersson played in the viola section and was later appointed an Honorary Member of the Royal Stockholm Philharmonic Orchestra. Here, you can read about more distinctions, the difference between a philharmonic and a symphony orchestra, and what it was like when Toscanini fever broke out in Stockholm. You can also read about the time Furtwängler became chief conductor of the orchestra – almost.
Honors and awards from the Stockholm Concert Hall Society and the Royal Stockholm Philharmonic Orchestra.
Conductor Laureate
Antal Dorati (1981)
Gennady Rozhdestvensky (1977)
Alan Gilbert (2008)
Sakari Oramo (2021)
Honorary member of the Royal Stockholm Philharmonic Orchestra
Hugo Theorell
Hans Schmidt-Isserstedt
Allan Pettersson
Johannes Norrby
Nils Tidstrand
Erland Waldenström (1983)
Bengt Olof Engström (1986)
Yuri Ahronovitch (1987)
Paavo Berglund (1989?)
Björn Sprängare (1993)
Jan Åke Hillerud (2000)
Hans Edlund (2001)
Lucia Negro (2005)
Peter Schéle (2010)
Börje Risinggård (2013)
Stockholm Concert Society's honorary medal in gold
Concertmaster Ernst Törnqvist and chairman of the Royal Swedish Academy of Music Hans Nordmark (1977)
Vice chairman Nils Tidstrand (1978)
Ex boardmember Harriet Stangenberg (1981)
Ex chairman of the board Erland Waldenström (1983)
Executive director of the Stockholm Concert Hall Bengt Olof Engström (1986)
Composer Alfred Schnittke, singer Dietrich Fischer-Dieskau and board member Anders R. Öhman (1989)
Conductor Paavo Berglund (1991)
Stig Ramel of the Nobel Foundation, composer Witold Lutoslawski and Professor Toru Yano (1992)
Conductor Gennady Rozhdestvensky and Anders Lindström, chairman of the board (1995)
Composer Ingvar Lidholm, composer Daniel Börtz, board member Björn Sprängare, board member Anitra Steen and board member Gunnar Petri (1998)
Conductor Andrew Davis, musicologist professor Bo Wallner and Executive director of the Stockholm Concert Hall Åke Holmquist (1999)
Composer Sofia Gubajdulina and conductor Jan Åke Hillerud (2000)
Ex board member Andres Käärik (2002)
Ex board member Hans Dahlborg (2003)
Composer Hans Werner Henze and Administrative officer Rolf Österholm (2006)
Eric Ericson and ex board member Christina Tallberg (2007)
Conductor Alan Gilbert (2008)
Peter Schéle (2010)
Organist Erik Lundkvist (2012)
Conductor Herbert Blomstedt (2014)
Program Manager Mats Engström (2015)
Stockholm Concert Society's honorary medal in silver
Gennady Rozhdestvensky (1977)
Board member Erik Trädgårdh (1982)
Board member Anders R. Öhman (1985)
Sven Palm, Head of the cabinet of Friends of the Royal Stockholm Philharmonic Orchestra, and Birgitta Björkblom, board member of Friends of the Royal Stockholm Philharmonic Orchestra (2000)