Find us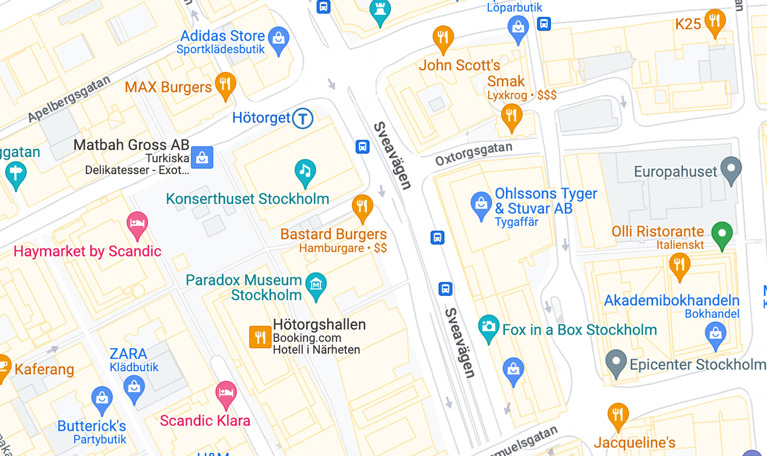 Welcome to the blue Konserthuset Stockholm, at Hötorget, in the heart of Stockholm. The venue is easy to get to by most means of transport.
Addresses
Main entrance: Hötorget
Entrance to Grünewald Hall: Kungsgatan 43
Entrance to Aulin Auditorium: Hötorget 12
Entrance to lift: Kungsgatan 41
Box office: corner of Sveavägen/Kungsgatan
Reception and artists' entrance: Hötorget 8
Konserthuset Stockholm on Google Maps (opens in new window)
Underground
Line 17, 18 or 19. Disembark at Hötorget and take the Konserthuset exit.
Bus
Bus 1, disembark at Hötorget
Bus 57, disembark at Hötorget
Mobility service
When booking mobility services, direct to Kungsgatan 41. Here you also find our manned lift which normally opens at the same time as the other entrances.
Opening hours during concerts.
Taxis
The nearest taxi rank is located on Kungsgatan, Hötorget.
Car parking
Hötorgsgaraget
Receive a 20% discount on parking fees at Hötorget car park when attending a concert. To use the discount, collect a voucher from the Konserthuset Stockholm box office.
Entrance to the car park is from Sveavägen 17 or Slöjdgatan 6.
Konserthusgaraget
Konserthusgaraget provides evening parking for 75 SEK, every day of the week, from 18.00 to 01.00.
Entrance to the car park is from Sveavägen 17.