Children and schools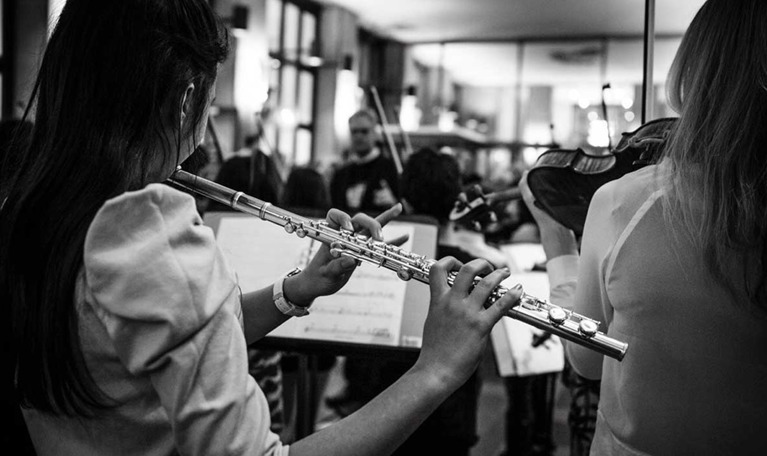 We want to give the next generation the chance to discover the music we offer. We therefore focus on having a comprehensive and broad offering for children and adolescents.
School concerts
The recurring school concert weeks offered for various age groups each season form the basis of Konserthuset's activities for schools.
For one hundred years, the Royal Stockholm Philharmonic Orchestra has put children in focus. It was the spring of 1917 when schoolchildren were invited for the very first time to listen to music by Mozart, Beethoven and Mendelssohn. The school concerts are still an essential part of Konserthuset and the Royal Stockholm Philharmonic Orchestra's operations.
Family concerts
The Royal Stockholm Philharmonic Orchestra appears in imaginative thematic programmes, often guided by a programme host who is well-known to the children. Our family concerts are normally recommended for those around five years of age and upwards.
Tours for children
Together with special music guides, the children get to take a "behind the scenes" tour and learn more about the orchestra's instruments. We offer several different concepts for school classes during the school year and for families with children on weekends and breaks.
Field trips
Free of cost, secondary and upper secondary school students can take field trips to listen to the Royal Stockholm Philharmonic Orchestra's rehearsals, and can also take part in a brief career orientation about life as a musician. Naturally, ordinary concert visits are also included among the activities for schools.
MINI – Big Music for Small Ears
MINI is aimed at children aged 3–5 years old. The children get to meet the musicians up close in Grünewald Hall and discover orchestral instruments in a classical concert with a music teacher. Afterwards, anyone who wants to may try the instruments.
Young summer musicians
In partnership with the Stockholm County Council, Konserthuset is lining up several summer musicians to perform daily concerts in the lobbies throughout the summer season. Approximately six ensembles, selected by audition, comprising music students aged 16–19 get to work for three weeks each.
After the summer season, these young musicians are offered a chance to continue as SEB Young Artists, an initiative by Konserthuset's main sponsor, SEB.
El Sistema Södertälje
Since autumn 2012, the Royal Stockholm Philharmonic Orchestra has partnered with El Sistema Södertälje. The orchestra's musicians are role models and mentors for students in the programme.
The musicians regularly meet with the children at their schools in Södertälje for workshops and mini concerts. Concerts with the full orchestra are also held each year, both in Södertälje and at Konserthuset Stockholm, where kids from El Sistema Södertälje appear with the Royal Stockholm Philharmonic Orchestra.
El Sistema Sweden's website (opens in a new window)
Master classes
Konserthuset's Swedish and international guest musicians share their knowledge and experience with young musicians. This occurs on selected occasions during the concert season.
Up to 26
Konserthuset offers generously discounted tickets to everyone up to age 26: half-price tickets for most concerts, with no limitations regarding pre-purchase time or seat location in the auditorium. This makes it possible to attend most concerts with the Royal Stockholm Philharmonic Orchestra for just 70 SEK.
Educational videos at KonserthusetPlay
A 15-video series about the various orchestral instruments is available completely free for use in teaching – or to watch at home – via Konserthuset's video service. Musicians from the Royal Stockholm Philharmonic Orchestra present and talk about their instruments. The videos are primarily geared towards students in grades 1–3 and are intended for use as an aid when teaching about instruments and classical music.
The miniseries The Concert Patrol is a sort of continuation of the instrument videos. The videos playfully describe the symphony orchestra overall, how a concert hall functions, and the role of the conductor.
The videos are produced in partnership with Konserthuset's main sponsor, SEB.
Royal Stockholm Philharmonic Orchestra's instrument videos