The meeting place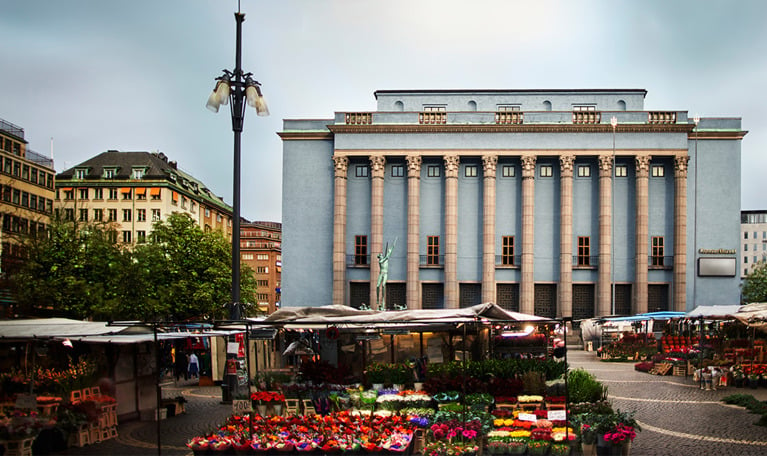 Konserthuset Stockholm is not just a great place for concerts. In recent years, our operations have expanded and moved beyond both concert halls and traditional concert apparel. Our vision is for Konserthuset to be a meeting place not only for musical encounters, but also for people searching for a place for reflection or to discover more about the world around them.
Summer programming
During the summer season, Konserthuset's foyers are open daily from 11–17 with free entry, offering visitors the chance to see exhibitions, take guided tours or listen to concerts by young summer musicians.
Exhibitions
Since the launch of summer programming in 2004, exhibition activities in Konserthuset's foyers have expanded significantly. To date, we have presented over 60 exhibitions, not only during the summer but also on other occasions. The focus is on photography exhibitions – contemporary press photos, historic photos, art and nature photography – and exhibitions related to concert activities.
Guided tours
Experiencing the Konserthuset building yourself and discovering the richly detailed adornments when you have the public spaces to yourself can be an incredible experience. The ambitious tour of Konserthuset's art and architecture is given regularly throughout the year, and is supplemented by tours for children and Nobel-themed tours.
Introductions and seminars
Many visitors are interested in learning more about the music being performed, the musicians and composers, working as a musician etc. Konserthuset therefore offers different types of concert introductions and seminars, including more generally focused content as well as more in-depth talks. We consider these events to be a form of ongoing public education about the activities we present.
For those who would like to participate, most concert evenings begin with Konsertkvarten – an oral, 15-minute introduction of the evening's programme. During festivals, we offer more in-depth introductions or talks with composers.
Konserthuset also arranges seminars with different themes, often in cooperation with other participants in the music scene, such as the multi-year series Klingande Akademi (Resounding Academy) in partnership with the Royal Swedish Academy of Music.