Stockholm International Composer Festival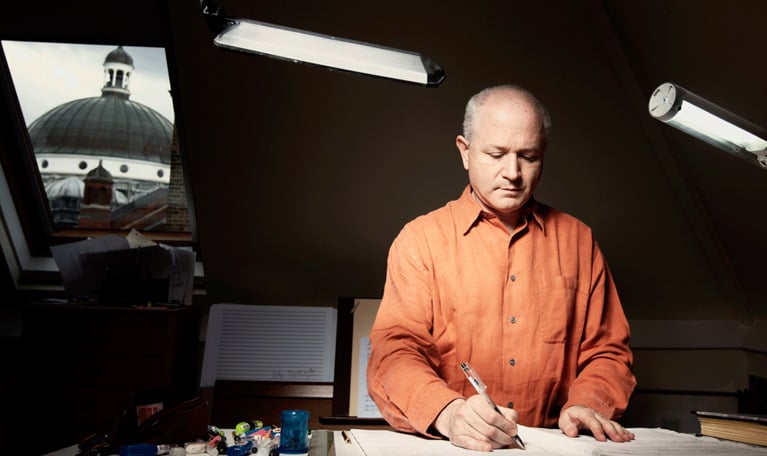 George Benjamin
The Stockholm International Composer Festival was born as a unique and controversial idea in the mid-1980s, but still survives today. Not many people believed in the concept before the launch of the first festival. But now the Composer Festival is among the true flagship events for Konserthuset and the Royal Stockholm Philharmonic Orchestra.
Konserthuset's huge annual Composer Festival was founded in 1986 and quickly became an essential element of both Swedish and international music scenes. The fundamental idea – to spend an intensive period featuring modern, established composers – has proven to be successful both artistically and among audiences.
Upon taking over the position in 1986, former executive director Åke Holmquist launched the first Composer Festival in Konserthuset. He explains: "I had thought a lot about new music and how hard it is to get it out there. Why is it that far too often, so many festivals only involve the inner circle of listeners? What could we do to attract more people to come and discover music?"
The answer was a week-long Composer Festival featuring only one composer. A picture of complete artistry, with absolutely no compromises when it comes to quality. The actual presence of the composer was one important concept. Another was that the concerts should be interspersed with lectures and other types of presentations. The third essential cornerstone was that the festivals should be included in Konserthuset's ordinary programme offering and concert subscriptions.
First up was Swedish virtuoso Ingvar Lidholm. The festivals have included not only concerts, but also – very much in accordance with the original idea – a deepened understanding of the composer through related activities such as meetings, film screenings and exhibitions. The major audience breakthrough came with the Alfred Schnittke festival in 1989.
History of the Stockholm International Composer Festival
1986 Ingvar Lidholm
1987 Witold Lutoslawski
1988 Lars-Erik Larsson
1989 Alfred Schnittke
1990 Karl-Birger Blomdahl
1991 Five at the Sixth (the previous years' composers, plus György Ligeti)
1992 Daniel Börtz
1993 Krzysztof Penderecki
1994 Sven-David Sandström
1995 Arvo Pärt
1996 Anders Eliasson
1997 Sir Michael Tippett
1998 Ingvar Lidholm
1999 Anders Hillborg/Jan Sandström/Pär Lindgren
2000 Sofia Gubajdulina
2001 Lars Ekström/Bent Sørensen/Rolf Wallin
2002 Kaija Saariaho and Magnus Lindberg
2003 Henri Dutilleux
2004 Esa-Pekka Salonen
2005 John Adams
2006 Hans Werner Henze
2007 Tan Dun
2008 Kimmo Hakola and Rolf Martinsson
2009 Thomas Adès
2010/11 Steve Reich
2011 Brett Dean
2012 Per Nørgård
2013 Unsuk Chin
2014 Anders Hillborg
2015 The Boulanger Sisters
2016 Oliver Knussen
2017 HK Gruber
2018 Thea Musgrave
2019 George Benjamin
2020–21 No festivals due to the pandemic
2022 Olga Neuwirth