Sakari Oramo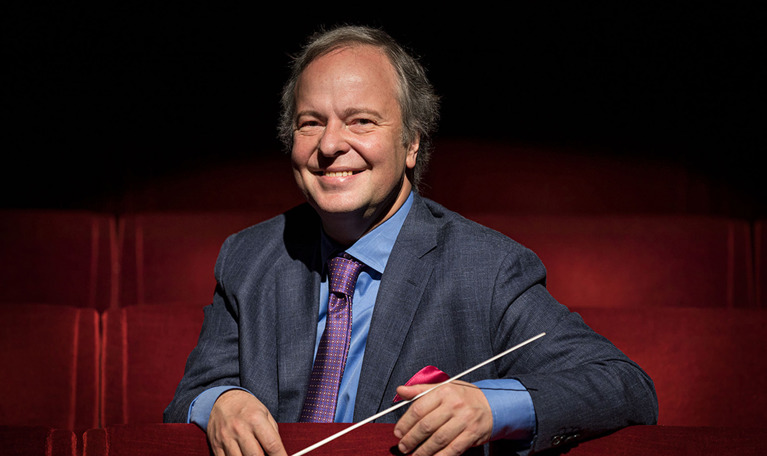 Photo: Nadja Sjöström
Chief conductor and artistic advisor 2008–21. He was then appointed Conductor Laureate. To date, he has conducted the orchestra in close to 300 concerts.
Sakari Oramo was named chief conductor and artistic advisor of the Royal Stockholm Philharmonic Orchestra in 2008, and his contract was renewed several times after that. The 2020/2021 concert season marked his last in this capacity, after 13 succesful years together during which the orchestra won international praise for recordings and tours.
He was subesequently named Conductor Laureate by the members of the Royal Stockholm Philharmonic Orchestra. The diploma was presented by Peter Eriksson, violist and chairman of the orchestra.
Read more about Sakari Oramo here
In 2012, Sakari Oramo was elected as a member of the Royal Swedish Academy of Music. In 2016, Sakari Oramo was named Conductor of the Year by the historic Royal Philharmonic Society in London.
2009 The Royal Stockholm Philharmonic Orchestra and its new chief conductor on tour to Copenhagen, Wiesbaden and Grafenegg.
2010 Sakari Oramo conducts 10 concerts in Japan with The Royal Stockholm Philharmonic Orchestra, the orchestra's fourth tour in Japan.
2011 Proms concert at the Royal Albert Hall with Alice Sara Ott as piano soloist.
2012 European tour turné with violinist Lisa Batiashvili: Musikverein in Vienna, and then Frankfurt, Dortmund and Utrecht.
2013 Concert at Carnegie Hall in New York with Sakari Oramo, the Royal Stockholm Philharmonic Orchestra and the violin soloist Ray Chen, followed by a concert at the Kennedy Center in Washington DC.
2014 Two concerts at the Palace Hall in Bucarest with Stephen Hough as the piano soloist, in connection with the Enescu Festival.
2015 Tour of Switzerland with violinist Patricia Kopatchinskaia: Geneva, Zürich, Bern and S:t Gallen.
2015 European tour with violinist Lisa Batiashvili. Two concerts in Musikverein in Vienna, followed by concerts in Baden-Baden and Luxemburg, Cologne and Hamburg.
2016 Concerts in the new Malmö Live with piano soloist Simon Trpceski, followed by a concert in Amsterdam's Concertgebouw.
2017 Tour with violinist Janine Jansen to Örebro, Tallinn and Tarttu.
2017 Tour with American soprano Renée Fleming to Amsterdam (Concertgebouw), London (Royal Albert Hall), Helsinki (Musiikkitalo) and Dortmund (Konzerthaus).
2018. Tour of Spain and Italy: Madrid, Alicante, Udine and Brescia. Soloists on this tour were pianist Nikolai Lugansky and violinist Vilde Frang.
2018. Three concerts with three different programmes at the Suntory Hall in Tokyo.
2019. Spring tour in Switzerland with concerts in Zürich, Geneva and Luzern, together with clarinetist Martin Fröst.
2019. Autumn tour to Malmö, Hamburg (the new Elbphillharmonie) and Cologne, with the violin soloist Alina Pogostkina.