Antal Dorati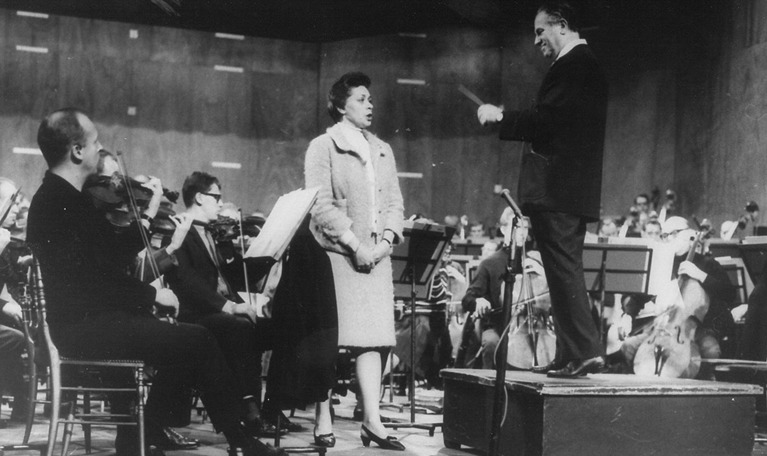 The soprano Elisabeth Söderström with Antal Dorati and the orchestra, rehearsing in Salle Pleyel in Paris in October 1966.
Antal Dorati was chief conductor from 1966–74. He conducted a total of 320 concerts with the orchestra.
The orchestra's period under the baton of Hungarian conductor Antal Dorati, 1966–74, is considered to be one of the most important in its history. The ensemble worked hard to further refine its playing, and went on several major international tours of Europe and the US.
Works he premiered include Allan Pettersson's Symphony No. 7, now a modern classic. Dorati's orchestral arrangements of some of Pettersson's Barefoot Songs, with Karl Sjunnesson as the baritone soloist, were performed at the same concert in 1968. The following year, he took Pettersson's Seventh on tour to Prague, East Berlin, Dresden and Leipzig, among other places. In 1972, Antal Dorati also premiered Pettersson's Symphony No. 8.
Antal Dorati (1906–1988) was born in Budapest and was also active as a composer – he studied composition with Zoltán Kodály and Leó Weiner, and piano with Béla Bartók at the Franz Liszt Academy of Music in Budapest. Before coming to Stockholm, he had been chief conductor of the Dallas Symphony Orchestra (1945–48), Minneapolis Symphony Orchestra (1949–60) and the BBC Symphony Orchestra (1963–66).
Antal Dorati debuted with his future Stockholm orchestra in 1953 – with works including Berwald's Sinfonie Sérieuse and Lars-Erik Larsson's Violin Concerto on the programme – but he was not appointed chief conductor until about ten years later, after a number of new guest performances.
In addition to the great classical repertoire and early twentieth century classics, for example by Bartók, Dorati presented a remarkable amount of Swedish music, especially contemporary music represented primarily by Karl-Birger Blomdahl. Among other works, Blomdahl's Sisyphus was on the programme during a major US tour in 1966, in addition to a European tour in 1968 and US tours in 1968 and 1970, when the orchestra also performed music by Hilding Rosenberg and Franz Berwald alongside repertoire classics. In brief, the orchestra went on long tours annually with Dorati.
During his eight years as chief conductor, Antal Dorati led about 250 concerts with the orchestra. But he also returned regularly each season thereafter, and the total number of concerts with Dorati reaches 320. When he died in 1988, Dorati was in the process of recording both his own works and symphonies by Brahms and Allan Pettersson together with the orchestra.
1966 Antal Dorati led the orchestra in 13 concerts from Paris to Lübeck.
1968 Dorati led the first US tour.
1969 The orchestra completed its first eastern European tour: Prague, East Berlin, Dresden and Leipzig. Once again, Dorati conducted.
1970 Dorati led the second US tour.
1970 Two concerts at the Edinburgh International Festival, where, among other works, Dvorák's Requiem was performed: the only occasion on which the Musical Society (later the Philharmonic Choir) went along on tour.
1973 Dorati's final tour with the Philharmonic. It began in Hamburg and ended in Vienna, with performances of Roman's Drottningholm Music, Bartók's Concerto for Orchestra and Sibelius' Symphony No 2.