Yuri Ahronovitch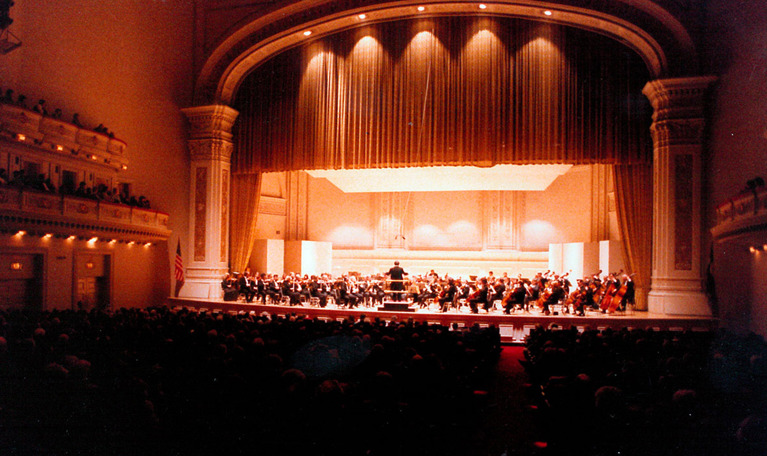 Yuri Ahronovitch and the orchestra in Carnegie Hall on October 31, 1984.
Yuri Ahronovitch was chief conductor from 1982–87. He conducted a total of 161 concerts with the orchestra.
After his first concerts with the orchestra in January 1980, Yuri Ahronovitch (1933–2002) was offered the role of chief conductor. He returned as guest conductor the following year and took over as chief conductor two years later, in January 1982. His period as chief conductor lasted until 1987. He led the orchestra in a total of approximately 160 concerts and completed acclaimed tours of Europe and the US.
Yuri Ahronovitch was born and educated in Leningrad. He was also primarily active in the Soviet Union – as chief conductor of the Moscow Radio Symphony Orchestra from 1964 through 1972, when he emigrated to Israel. From 1975–86 he was chief conductor of the Gürzenich Orchestra Cologne, a position which indeed overlapped with his engagement in Stockholm. Over the years, he was also regularly engaged by the London Symphony Orchestra, the Israel Philharmonic Orchestra and the Vienna Radio Symphony Orchestra.
Yuri Ahronovitch conducted a relatively large amount of Swedish music, including pieces by Berwald, Stenhammar, Alfvén, Rosenberg, Pettersson (Ahronovitch premiered Symphony No. 16 with the orchestra in February 1983, and the piece was also included in the tour of the US in autumn 1984), Lidholm, Lars-Erik Larsson, Bucht (premiere of Symphony No. 8 in September 1984) and Hans Eklund.
During his early years in the 1980s, the orchestra also welcomed guest conductors such as Christoph von Dohnányi, Myung-Whun Chun, Charles Dutoit, Leonard Slatkin, Riccardo Chailly, Iván Fischer, Esa-Pekka Salonen and Kurt Sanderling.
1981 European tour conducted by Bernard Klée. One of the soloists was trumpet legend Maurice André.
1984 Chief conductor Yuri Ahronovitch's first tour abroad with the orchestra was in Spain, with concerts in Pamplona, Bilbao and Madrid.
1984 Fourth North American tour, from October-November. Ahronovitch conducted.
1985 Tour of East Germany with concerts in Dresden, East Berlin and Leipzig. The conductor was Scotsman James Loughran.
1987 Tour of Spain with Yuri Ahronovitch and violinist Henryk Szeryng as the soloist in Brahms' Violin Concerto. Two concerts in Las Palmas on Gran Canaria.