Gennady Rozhdestvensky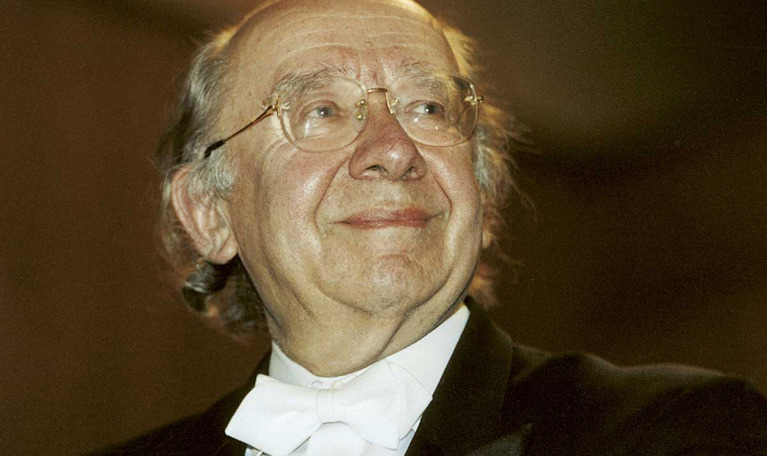 Gennady Rozhdestvensky was chief conductor from 1974–77, and later from 1991–95. He conducted a total of 174 concerts with the orchestra.
When Moscow-native Gennady Rozhdestvensky (born 1931) came to the Stockholm Philharmonic Orchestra, he was 43 years old and had built up an impressive level of experience, including international engagements. His career gained traction while he was still young: already at the age of 20, he had successfully conducted the Nutcracker at the Bolshoi Theatre, and his reputation began to spread. Above all, he has still come to be associated with his work for the contemporary music of what was then the Soviet Union, with premiere performances of music by composers such as Edison Denisov, Alfred Schnittke and Sofia Gubajdulina.
To some extent, his repertoire selection with the Swedish orchestra also had some Russian influences, and first-time recordings include music to Shostakovich's ballet The Bolt (Chandos), which he did with the orchestra later, in the 1990s. Generally speaking, the programme selection sharpened the focus on works by Tchaikovsky, Prokofiev, Shostakovich, Shchedrin and more.
His debut with the Stockholm Philharmonic Orchestra was not at Konserthuset, but at Folkets Hus on 15 November 1972, where they gave four concerts, followed by a concert in Uppsala University Hall. Konserthuset was closed for renovations from 1971–73.
The following year, 1973, Rozhdestvensky returned to conduct four concerts at Konserthuset, which had reopened. This led to his engagement as chief conductor from autumn 1974.
During his (first) period as the orchestra's chief conductor, Gennady Rozhdestvensky – or "Roffe Svensson", which he was occasionally called by the musicians when the syllables felt impossible – conducted 48 concerts. He later also led the orchestra in acclaimed guest performances in what was then the Soviet Union, with two concerts in Moscow in February 1979 and another two in Leningrad, as Saint Petersburg was known at the time.
In fact it was then, in Moscow, that they gave the premiere performance of Ingvar Lidholm's newly composed Kontakion. Over the years, that piece has become one of the orchestra's masterpieces and has subsequently been taken on many international tours in the 1980s, 1990s and 2000s.
It was also at that time, officially in January 1976, that the long-awaited merger of the foundation for Stockholm Konserthuset and the Stockholm Concert Society took place, forming a single institution: Stockholm Konserthuset Foundation.
After his time in Stockholm, Gennady Rozhdestvensky was chief conductor of the BBC Symphony Orchestra and the Vienna Radio Symphony Orchestra. He returned to Stockholm for another period as chief conductor in the early 1990s.
1975 Concert in Helsinki under the baton of Rudolf Kempe. Gidon Kremer was the soloist in Sibelius' violin concerto, which is said to be the first concert Kremer was allowed to perform outside of the Soviet Union (before, he had only been encouraged to participate in contests).
1975 The third US tour, despite issues with the indisposed Gennady Rozhdestvensky. The orchestra's first concertmaster, Leo Berlin, was the soloist in Lars-Erik Larsson's Violin Concerto at 11 concerts. One of them was at Carnegie Hall in New York City.
1979 Soviet tour in the month of February. Two concerts in Moscow and two concerts in Leningrad with chief conductor Gennady Rozhdestvensky.