Carl Garaguly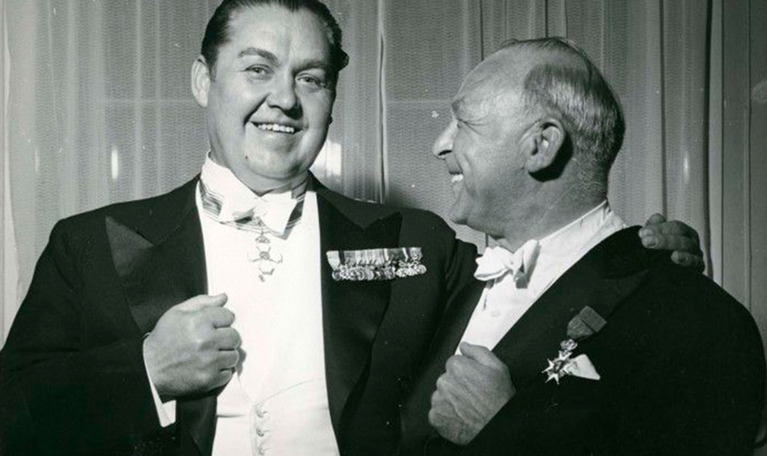 The tenor Jussi Björling and Carl Garaguly, in connection with the New Year's concert in 1944.
Conductor and violinist Carl Garaguly was chief conductor from 1942–53. He participated in 527 concerts with the orchestra, primarily as conductor, but also as a violin soloist. And that is excluding his concerts during his period as concertmaster.
Hungarian violinist and conductor Carl Garaguly (1900–1984) spent much of his life in Sweden, working in both Stockholm and Gothenburg as a violinist and a conductor.
He was born in Budapest and was a musical prodigy with public performances from the age of 6. At 10, he was already performing concerts on tour. Among others, he studied with another violin-playing emigrant to Sweden, Henri Marteau. At 17, he was appointed second concertmaster of the Berlin Philharmonic.
Carl Garaguly moved to Sweden in 1923 and was concertmaster of the Gothenburg Symphony Orchestra until 1930. Subsequently, his partnership with the Stockholm Concert Society began via his position as concertmaster. He also appeared as a violin soloist in pieces by Mozart, Wieniawski, Pergament, Berwald and Mendelssohn-Bartholdy. He continued as concertmaster until 1942, when he was appointed chief conductor of the orchestra.
Only two years earlier, he had made his debut appearance as conductor for school concerts, after studying conducting with Clemens Krauss. During his time as chief conductor, he also continued to participate in school concerts, reaching into the 100s.
The appointment of Carl Garaguly was not unanimous, and some people criticised the board for not giving the position to Tor Mann (Mann also led the concert in which Garaguly debuted with the orchestra as violin soloist in February 1929). And composer Kurt Atterberg criticised the appointment on account of the fact that Carl Garaguly was not Swedish-born – despite the fact that Carl Garaguly had indeed spent half his life in Sweden and was married to a Swede.
With Carl Garaguly, the orchestra gained a conductor who did not only work with classics, but who also had a huge interest in modern music. His preparations and rehearsal technique soon earned him plenty of admiration and appreciation, and the orchestra improved during his time as chief conductor.
In the summer of 1952, for the first time, the Stockholm Concert Society gave two concerts in London under the baton of Carl Garaguly. The programme included Gösta Nystroem's Sinfonia del mare, with Eleonora Collin as soprano soloist, and Stenhammar's Piano Concerto No. 2, with Hans Leygraf.
As the leader and principal player of the Garaguly Quartet, he also recorded Swedish music for quartets, such as Stenhammar's String Quartet No. 5, Atterberg's String Quartet No. 2, Lars-Erik Larsson's Intimate Miniatures and Rosenberg's String Quartet No. 4.